New Travel scented candles collection by Colonial Candle is now available!
2021-02-10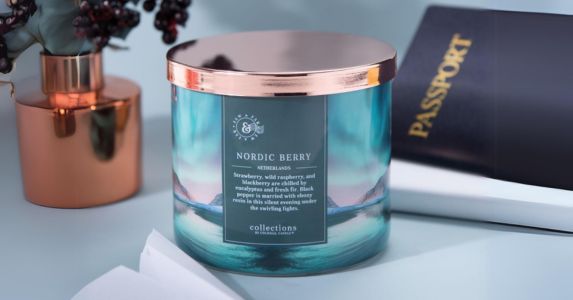 Discover the new Travel collection of soy blend candles from Colonial Candle. As we know, in times of pandemic it is difficult to plan foreign trips, so the new collection of Travel scented candles by premium Colonial Candle brand comes to help. Nine fragrances are inspired by the most popular travel destinations. We will find here not only the well-known and well-liked tropical beach fragranced, but also rare Scandinavian candles with a fjords motif or a unique aromatic journey to Paris, where we will visit the blooming Parisian gardens.
3 wick Travel Collection soy blend scented candles by Colonial Candle
Candles from Travel collection are the essence of everything that customers love in the limited series of Colonial Candle. Top-quality intense fragrances, a blend of natural soy wax and three wicks for an optimal visual experience. Each soy blend scented candle from Colonial Candle travel series has been placed in a large glass with a bold label surrounding the candle all around. This full color shrink wrap has beautiful color details all around the jar. On the label you will find an inspiring photo referring to the destination being inspiration for fragrance. Candle has elegant rose gold-colored lid.
All the scented candles in the Travel collection are made in the USA. The weight of the candle wax is 411 g (14.5 oz).
What candle scents can be found in the Travel collection?
Currently, the Travel collection includes as many as nine unique scents of aromatic candles perfect for traveling enthusiasts. It includes floral scents, such as Parisian Garden or referring to popular travel destinations, such as Miami Sands, Canyon Spice or Santorini Sunset. Fans of vacation under palm trees will be delighted with the scent of Maui Tiki Hut and Cancun Cabana. For those who prefer visit cooler locations, the scent of Nordic Berry and Alaskan Pine will be perfect.